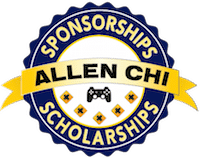 The Second Round of the 2020 Allen Chi Gaming Scholarship is now open! To apply, please fill out and submit the form below.
Please write a short essay (750 words limit) discussing the most important issues that gamers face today. Why do you want to become a gamer or get involved in the industry? What makes you interested in gaming?
To apply in Round #2, please fill out this form. Good Luck!