Allen Chi Gaming Scholarship
The 2022 4th Annual Allen Chi Gaming Scholarship has ended. Thank you to our participants and congratulations to our latest winners! Stay tuned for updates and additional scholarship opportunities in 2023.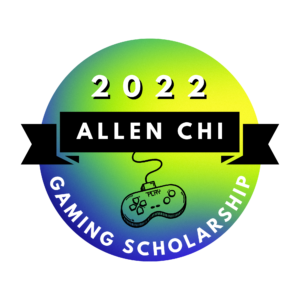 Is your Twitch or Mixer stream drawing a crowd?  Are you a rising personality in the streaming world (or perhaps you hope to be)?  Then apply for the sponsorship!
Have you proven your dextrous abilities in the heat of an eSports competition?  No matter where you placed in the tournament, you could be a recipient of an excellent scholarship!
eSports have existed for nearly 20 years, with presence expanding across the past 5 years. The world of competitive gaming is creeping up in the college sphere, offering gamers new opportunities. A supporter of education and gaming, Allen Chi is proud of the partnership brewing in these two realms.
The Allen Chi Gaming Scholarship is an achievement-based scholarship awarded to students interested in gaming. Students are recognized for their capacity to play and serve, as well as their commitment to making a significant impact on the gaming industry. In April 2022, Allen Chi will select 25 student gamers to receive a $1,000 to $5,000 scholarship!  This will be the 3rd installment of the annual program.
Submit your application here
Eligibility Requirements
In order to participate in the scholarship contest, applicants must meet the following criteria:
Must be older than 13 years old
Must be currently attending a high school, college, or university.
Must be studying for building a gaming related career or passionate about finding ways to promote gamification.